Custom Hire Terms & Conditions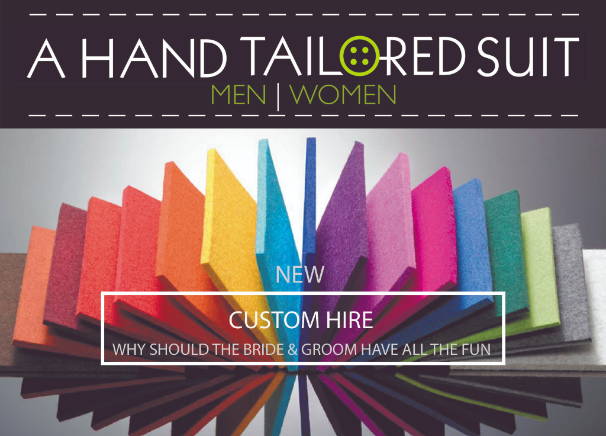 ---
TERMS AND CONDITIONS OF CUSTOM HIRE
The custom hire period is for 7 days from collection. Etc. collection/ departure Thursday returned the following Thursday to studio.
A security deposit is required of €100 per hire suit on collection prior to departure.
late returns are chargeable at €50 per day deducted from the security deposit.
Our custom hire will be available for fitting & collection on the week prior to function date, dependant on when order is placed.
Custom hire has been designed to give an alternative to the normal run of the mill hire options available. We offer either a 2pce or 3pce suit package consisting of (shirt to keep) & tie/bowtie from a selected number of cloths that can be tailored to within 0.50″ of your bodies measurements. This enabling everybody to enjoy the bespoke experience. * Please do note we do cut & tailor our normal bespoke garments down to 0.25″.
Returns, please do make sure all items are returned in agreed time and that all personal items have been removed as we will not be held liable for any missing items.
Please do note any repairs or any extensive dry cleaning will be deductible from security deposit.
Missing items will also be charged for.
Custom Hire is ocassionally available to purchase, as we have taken the effort to custom fit a suit to everyone, we also foresee the benefit of affording the option to purchase a fitted suit, this can be arranged prior to or during the hire period. Please note the purchase of custom hire garments is at the sole discretion of the company and will not amend any of the terms above for custom hire.
For purchasing options please contact the tailoring team.
Custom hire currently is only available within Ireland.  
If we could ask that you make sure you have read our terms & conditions fully to save any slight understandings.
---
First name
Last name
Submit
Account form fields
Data were successfully stored
Something went wrong, please try to store again
These fields can not be empty, must be checked, or have to be valid