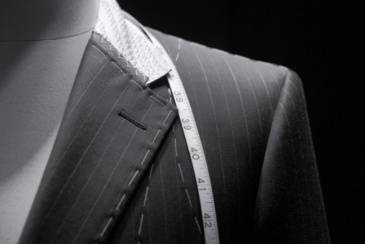 THE FITTING PROCEDURE
1st Fitting, we will arrange a fitting appointment with you, so we can review the fit & pattern of your new bespoke garment with you.
• Adjustments, any tailoring / adjustments are done onsite or locally and are turned around swifly by expert craftsman.
• 2nd Fitting, the 2nd fitting this is when your bespoke garment will really begin to take shape. It is not uncommon to repeat the 1st fitting if a little more shaping is required. We will do as many fittings as required to make sure you are happy with your bespoke custom handmade garment from a Hand Tailored Suit.
• Final Fitting, it's true there is no better feeling than going bespoke, having something that's made just for you, designed to your unique body pattern and requirments with a little help from us of course! A garment should never wear you, you should wear a garment and enjoy the feel and compliments that a bespoke garment affords you. You will never shop off the peg again.
ADJUSTMENTS, REPAIRS & REMAKES
Unfortunately, under our terms & conditions we do not offer refunds.
• We Favour a Repair, Adjust & Remake Policy, We have always found this to be the most fair & beneficial method for all our stitchers, pattern cutters, cloth merchants & tradesmen, directly & indirectly involved with your custom bespoke order to get paid.
•Why? All of Our Garments Are Uniquely Made. All of our orders are unique custom designs & the cloth is bespoken to each individual's order requirements to fit not only their body & body-profile, but also their tastes & characteristics.
• Our master craftsman, At least 4 master craftsmen will have worked on your bespoke order, from drafting out the unique paper pattern of your measurements & body profile to the cutting of your cloth. Then it all heads off to our master stitchers that not only stitch & piece together your garment.
• The Fitting Procedure, The Client is obliged to complete the fitting process. The fitting process is the most important part of the bespoke procedure, as we need to review how the cloth drapes from the body and how close fitting you would like it to be. It can take multiple fittings, dependent on your style and overall fit, we cut & measure to within 1 cm of your actual bodies measurements. However, remember the fit of a bespoke suit is unique to each individual wear requirements. We are not only perfecting one garment but cutting a future template.
•Adjust & Repair, if required we will undertake a fitting with our head master tailor. We endeavour to perfect a unique pattern of your bodies measurements. How long should the fitting process take? We tend to have our gentlemen completed within 2 fittings & our ladies completed within 3 fittings for first time clients. However, if asking a tailor how long is a piece of string & they will tell you it all depends on what's its being used for, as cloth / string is unique as it stretches & adapts to its environment. So may need checking twice.
•Remaking, If a garment is in the rarest of occasion is deemed requiring a remake of the stitching and construction, this is done to make sure the pattern is perfected and any future work will be minimalistic. We do reserve the right to restart the garment construction if necessary. Perfecting a fit and a pattern is what makes custom bespoke tailoring so rewarding in the future as during the Fitting Procedure we will be updating any adjustments made to your unique pattern & archiving it. Cutting out any future adjustments. Did you know our peers on Savile Row are known to head to 7 fittings for first time clients!
First name
Last name
Submit
Account form fields
Data were successfully stored
Something went wrong, please try to store again
These fields can not be empty, must be checked, or have to be valid