Keanu Reeves Suit Spotlight
Canadian actor Keanu Reeves was born in Beirut, Lebanon and is known both for his amazing acting skill and for his secret philanthropy and kind heart. He was born to an English mother who is a costume designer and his late Hawaiian father was a performer. 
Acting roles
He is known for many roles such as the Bill and Ted franchise (1989–present); the action films Point Break (1991), Speed (1994), and the John Wick franchise (2014–present); the psychological thriller The Devil's Advocate (1997); the supernatural film Constantine (2005); and the sci-fi action series The Matrix (1999–present). He was also memorable in films such as Dangerous Liaisons (1988), My Own Private Idaho (1991), and Little Buddha (1993), and Bram Stoker's Dracula (1992) alongside Winona Ryder and Gary Oldman.
The Oscars
Keanu took his mother, Patricia Taylor, to the 92nd Academy Awards this year. He wore a classic black tuxedo three-piece tuxedo.
The jacket had pointed lapels, flap pockets, and prominent button detailing on the cuff. He wore a simple white pocket square, black button covers, a simple black waistcoat, a black bow tie, and black patent leather shoes. He donned his signature mid-length locks and a beard. 
His mother wore a fabulous double-breasted white suit and she looks amazing for her seventy-six years. Now you can Google all those memes about how Keanu never ages!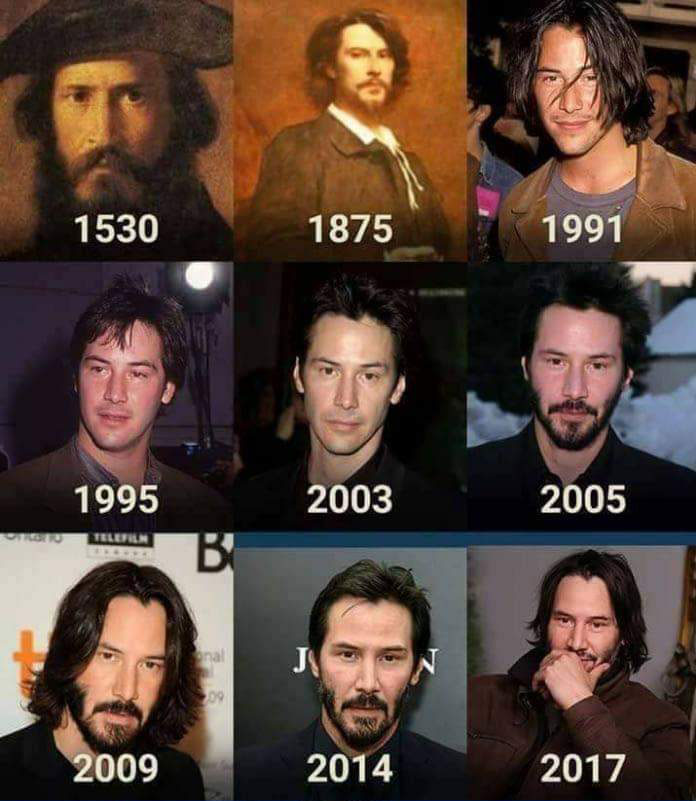 2019 LACMA Art + Film Gala
Last November, Keanu caused a stir by attending an art and film gala with his artist girlfriend, Alexandra Grant. Known for his monochromatic looks, he wore a grey wool three-piece suit. The waistcoat had simple buttons and had a high v-neck cut. The jacket and trousers were fairly simple but sleek and sharp. He wore a grey button-up shirt and a simple black tie and casual brown boots. 
Netflix premiere
At the Netflix premiere of Always Be My Maybe, he wore a sharp three-piece suit in navy pinstripe. The jacket has a simple cut with pointed lapels and flap pockets but suits him well. He opted for a bolder paisley tie in blue and purple tones against his blue button-down shirt. He accessorised with a brown belt and brown boots.
Keanu's kindness showcase
This YouTube video shows how much Keanu appreciates his fans and what a kind person he is! Check it out. He's also wearing lots of amazing suits with his classic dark monochrome looks! (And take a look at his hover hand trick.)
Which is your favourite Keanu Reeves outfit?
Let us know in the comments which outfit was your favourite. Inspired by these designs and others, let us know. Get in touch with our tailoring team today. We create high-quality, custom-made suits in a range of styles, fabrics, linings, cuts, colours, and customisations. Everything can be cut to your specifications and needs. We create suits that make you look amazing. 
Want more fashion topics?
We publish blogs weekly about the latest in award shows and galas, upcoming fashion trends, fashion trends that are here to stay, The Graham Norton Show, and more. Check out some of our past posts below.